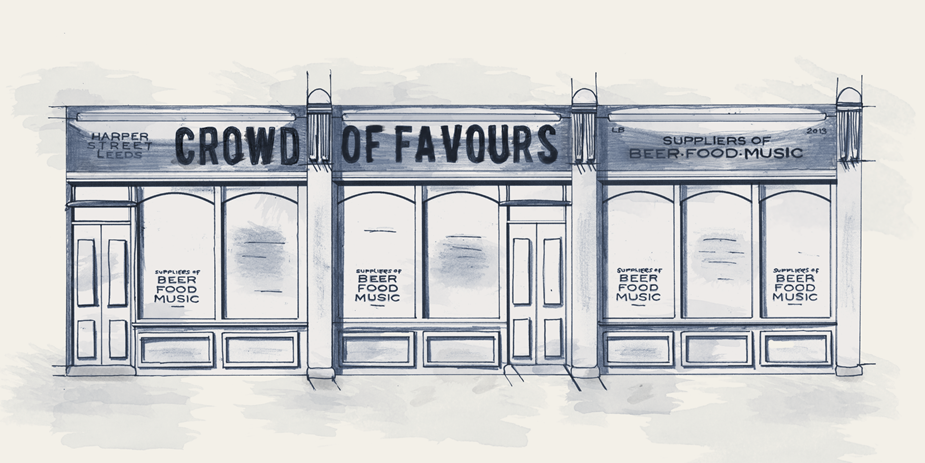 Crowd of Favours £100K refurbishment
Crowd of Favours reopens this week after a £100K refurbishment
Crowd of Favours, situated on Harper Street, next to the famous Leeds Markets, will reopen its doors on Friday 20th January after a 2 week, £100,000 refurbishment.
The investment into the venue, which is part of the Leeds Brewery pub group, has been made by new owners Camerons Brewery.  This will be the North East brewers first refurbishment into the group following the purchase in July 2016.
The 'Crowd', which is one of the traditional pubs located in the city centre, is a great place to chill out and relax with an eclectic selection of rotating cask and craft keg beers, a range of spirits, an excellent wine list and a locally sourced menu.
Harper Street is bursting with history, dating back to the nineteenth century where an old Dewhirst warehouse was once located across the street. Michael Marks began his commercial journey, borrowing just £5 from wholesaler Isaac Dewhirst to launch a chain of penny bazaars across Leeds. The original can now be found in the heart of Leeds Markets.
The refurb sees a new exterior, including signage inspired by the industrial heritage of the area, fully renovated interior, contemporary furniture and a newly finished bar area.
The basement will be transformed into the home of live entertainment; a great hidden city centre venue to host weekly live music events, cinema showings, monthly stand up comedians and more. There will be comfy sofas, old fashioned brickwork and cabaret seating surrounding the event space.
On the bar will be a wide selection of beers ranging from the classic Leeds Brewery cask and keg range as well an extensive choice of American and British craft beers.  Additional beer lines have been added meaning consumers will be able to choose from 5 rotating keg and 4 rotating cask beers offering a varied choice on the bar.
Chris Soley, Chief Executive of Camerons said "We have expanded our pub estate at a fantastic pace over the last 3 years as part of our long term strategy to grow retail estate.  We were delighted to purchase the Leeds Brewery pubs into our managed group last year.  As well as investing in new venues it is also vital for us to look at refurbishment schemes for existing pubs within our group.  We identified the need to develop the look and offering at the Crowd of Favours and we are sure the improvements being made will make this a very exciting venue for customers to visit in an area of Leeds which is also seeing new investment".
The site will be launching a brand new food menu offering up pub classics, burgers, hot dogs, and sharing options, to be relished in a casual dining setting. All ingredients are locally sourced by the pub's trusted suppliers and all meals are freshly prepared to order. They will continue to accommodate their well renowned, home cooked roasts served every Sunday from 12-7pm.
Crowd of Favours will reopen to the public from 5pm on Friday 20th January. There will be drinks, nibbles and live music from 8pm.
The news of the refurbishment into the Crowd of Favours follows Camerons latest investment into their Cluny venue in Ouseburn, Newcastle.  The brewer has invested £100,000 upgrading the music venues PA and lighting system to ensure it maintains its reputation as one of the key gig venues in the North East.
Crowd of Favours reopens on the 20th January at 5pm
Crowd of favours can be found online at www.crowdoffavours.co.uk