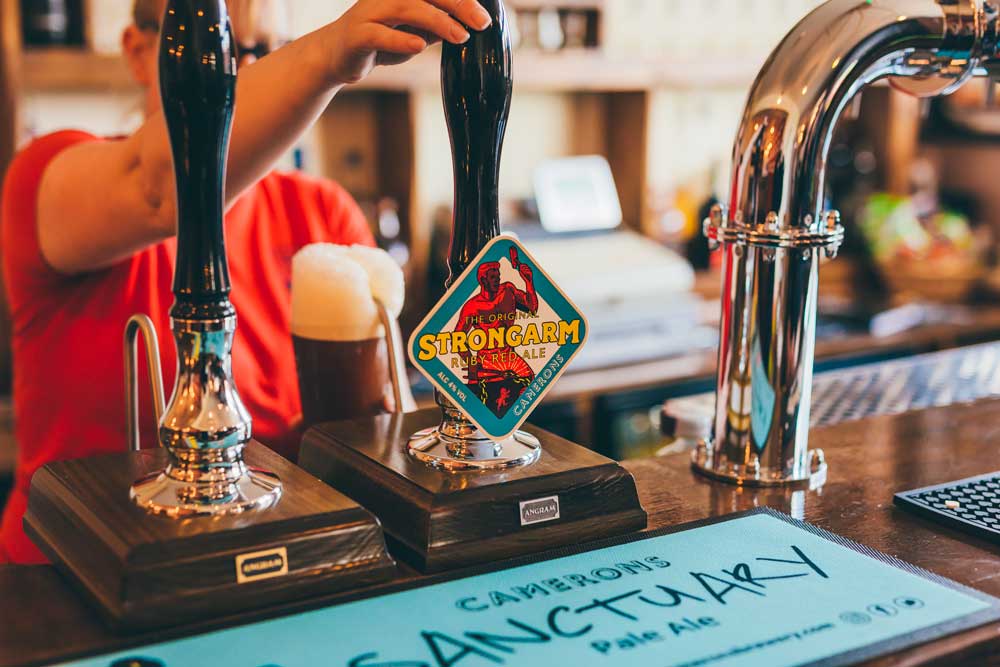 Camerons LAUNCH NEW LOOK FOR OLD FAVOURITE
Camerons have given their Strongarm brand a new look as part of a rebrand of their 'Heritage' range of beers.  The brewer has taken inspiration from the branding used in the late 1960's to develop a new retro look for the beer.
Strongarm, which is a traditional North East ruby red ale, has been brewed at the Lion Brewery to the same recipe since 1955 and is the brewers flagship ale.  Camerons is bringing back the focus on the iconic hammer wielding man as the main feature of this design.
The other brands in the 'Heritage' range including Trophy Special, Pale Ale, Camerons Smooth, Steamer Smooth, Monkey Stout and Tontine have also been redesigned to fit with this brand range.  In addition, the brewer will also be rebranding their cask and bottle A-hop-alypse Now beer as Hopper as part of the revised look.
Camerons head of marketing Yousef Doubooni said "One of our big focus areas for the next 5 years is to continue to develop our range of own brand beers.  Our big drivers at the brewery have focused on growing contract brewing volumes and the expansion of our managed pub group but we want to support this with a diverse variety of beers for our varied customer base.   As part of this it was key we gave clear brand identities to each of our 4 core beer brands.  We recently introduced our coastal themed 'Anchor' range which focusses on classic beer styles with a modern twist and has a clear brand identity thanks to the commissioned work by artist Travis Moore.  In addition, the introduction of our Tooth & Claw Brewing brands allows us to have a more innovative beer range.  We are delighted with how this has been performing since we launched this concept in 2018.  We have created some amazing beers styles with this range and have worked and have plans in place to work with some amazing UK brewers on collaboration brews."
"Our Röad Crew beer, in partnership with Motörhead, is a brand within itself and we are looking at further Motörhead beers as part of this.  At the same time, it was clear that we needed a new look for our flagship beer Strongarm as well as the other beers in this 'Heritage' range.  We looked at a variety of different ideas for this but when we saw some of the imagery and colours used on a selection of the original Strongarm designs we felt this would give the beer a traditional and historic feel which was in keeping with our ruby red ale.  We are delighted with the new designs for these and we feel it will work well with our target audience" Yousef added.
The new look for the Heritage range will start filtering across pubs over the next couple of months.
For further details and imagery please visit the Camerons website www.cameronsbrewery.com or follow the brewery via their Facebook, Twitter or Instagram accounts.