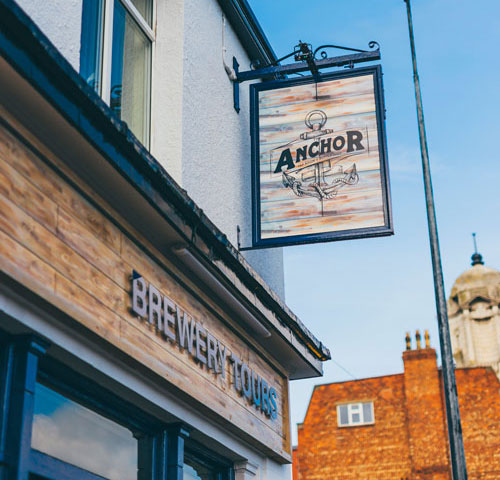 CAMERONS TAP ROOM AND BOTTLE SHOP GOES FROM STRENGTH TO STRENGTH
Camerons Brewery has seen its recently developed tap and bottle shop continue to thrive.  The former Visitor Centre on Stockton Street reopened as The Anchor in February this year and offers customers an extensive range of beers produced at the brewery as well as a selection from local, UK and world brewers.  This includes the brewers latest range from their on-site nano brewery Tooth & Claw.  The Anchor will be the place to get the very first pours of all the latest Tooth & Claw beers plus exclusive one off and trial brews straight from the brewery.
The Anchor also features a diverse range of can and bottled beers available for customers to drink on site or to takeaway with them.  On top of this all the beers available on tap can also betaken off site thanks to the venue's latest innovation of a purpose-built takeaway can machine.  This machine allows customers to choose their favourite draught beer and have it canned within a matter of seconds so they can enjoy the unique range of beers at home.

Following the initial launch, the venue has increased its opening hours.  The Anchor is now open Wednesday from 12pm – 6pm, Thursday and Friday from 11am – 11pm and Saturday 12pm – 11pm.
The brewer has also invested in a new outside drinking area towards the rear of the pub.  The 'Boat Yard' offers outside seating and a covered drinking area with a small Scorpion 1394 dinghyas the centre piece.
Every Thursday the venue runs its 'Tallboy Thursday' offer giving customers a 'buy 3 cans for the price of 2' offer on selected beers.
Marie McKay, manager at The Anchor said "It has been an absolutely amazing start for us at the Anchor. Following the initial opening we have been listening to feedback from our customers and have made a number of changes and improvements.  The main one being the opening hours and we quickly realised it was important for us to open later from Thursday through to Saturday.  As a result of the increased opening hours we have also taken on two new staff members."
"We will soon be introducing a monthly live music night plus 'Meet the Brewer' events showcasing breweries from across the North East.  On top of this we are also looking to put on a summer beer festival in late August" Marie continued.
For further updates follow the Anchor on their Facebook, Twitter and Instagram pages. For an up to date list of all of the beers available please visit their Untappd page.