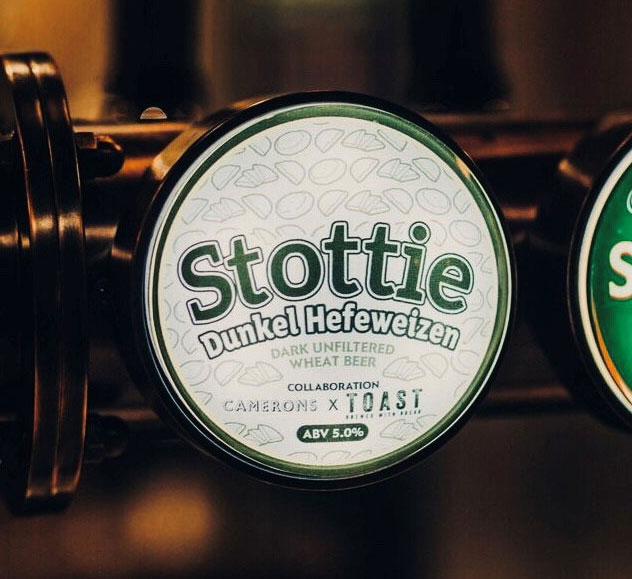 CAMERONS & TOAST LAUNCH COLLABORATION BEER
Camerons Brewery are delighted to announce that their collaboration beer with Toast Ale will be launched next month.
Stottie, which is a 5% Dunkel Hefeweizen beer, will be served on tap across the pubs' managed group from the 16th November. 
Camerons have replaced 1/3rd of the beer's normal malt bill with surplus bread which would have otherwise been destroyed.  This has been supplied via Adelie Foods. Stottie is a classic German style Dunkel Hefeweizen with a lovely banana and clove aroma ending with a rich malty and toffee taste.
The brewer will also hold an event at their The Head of Steam venue in Leeds to celebrate the launch of this limited-edition beer.  Camerons and Toast will donate 100% of the profits made from this beer to the charity Feedback which campaigns for a better, fairer food system.

Toast, who work with a number of brewers across the UK to highlight food waste, have so far raised over £12,000 for its nominated charity Feedback since it launched.  In addition, almost 1 million slices of unused bread have been used in beers they have developed.
Yousef Doubooni, head of marketing at Camerons said "We started working with the team from Toast earlier this year by introducing their bottled beers into our managed pub estate.  We really liked their beer concept and we felt it fit perfectly with the ethos in our The Head of Steam pubs.  During this time we have been working on a collaboration brew with them and it is great to see our Stottie beer come to fruition from this".
"The team at the brewery have created a fantastic beer and it has been a great experience brewing with bread as a substitute for part of the malt we would normally use.  We can't wait for this limited-edition beer to go on sale soon" Yousef added.
Chris Head, Head of Partnerships at Toast Ale said "We're very excited about collaborating with Camerons on our first ever Weizenbier. It's great to see our beers in some of the best craft beer venues in northern England and we're looking forward to the tap takeover with this new beer in Leeds in November."