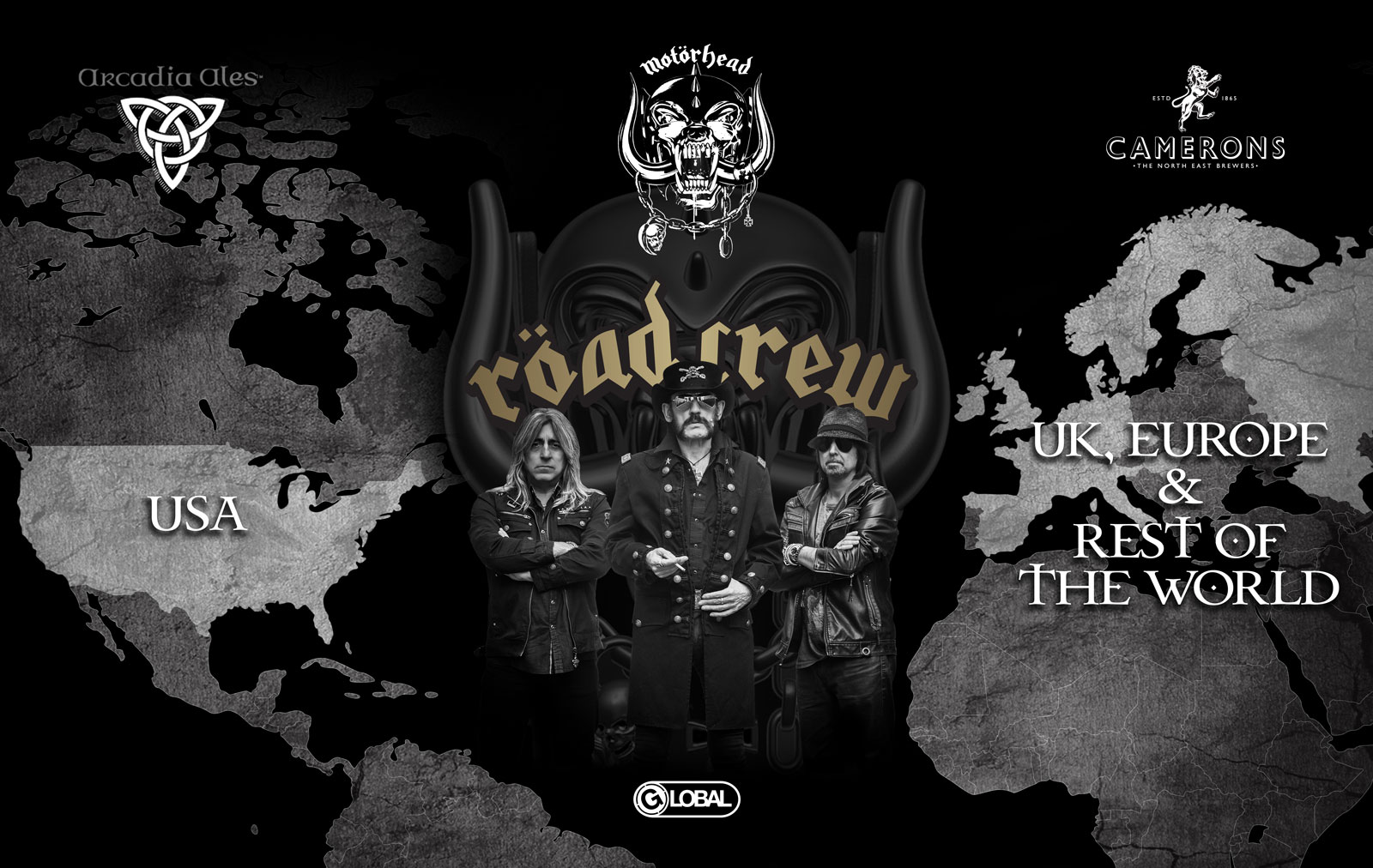 Motorhead to release Road Crew in the States
Motörhead, Camerons Brewery, and Global are proud to announce that Röad Crew is officially coming to the USA and being brewed by Arcadia Brewing Company of Kalamazoo, Michigan.
This American IPA will sit around 6.2% ABV, a crushable hop-forward India Pale Ale with attitude that showcases a floral and citrusy hop character with just the right amount of malt sweetness. Röad Crew beer is perfect for all rock, beer and hop heads and goes down especially well whilst listening to Motörhead at a wonderfully obscene, lawn-killing volume.  Röad Crew will be available in bottles, cans, keg and even cask.
Arcadia Brewing Co. was founded 1996 by Tim Suprise and is located on the riverfront in Kalamazoo, Michigan, a highly-regarded Craft Beer community, which is the original home to Gibson Guitars for 80+ years as well as Heritage Guitars and Kalamazoo Guitar Company.
"We began our trek into the Craft Beer world 22 years ago inspired by world-class, British-inspired beers, and becoming a partner with British icons Mötorhead, Camerons and Global Merchandising to bring Röad Crew to fans of great beer and heavy metal here in the US has our volume dial pegged to the max." Tim Suprise – Arcadia Founder
Röad Crew was launched by Camerons in December 2015 and has gone on to be a massive success being exported to 22 countries and placed in 1200+ locations within the first 12 months in the UK, while also having major supermarket listings throughout the UK.
US: www.arcadiaales.com/beer/motorhead-beer-us || UK: www.Motorhead-beer.com || Facebook: @MotorheadBeerUS || Twitter: @MotorheadBeerUS || Instagram: @motorhead_beer_us || Untappd: Motörhead Beer US
TODD SINGERMAN, MOTÖRHEAD'S MANAGER:
"When we do things we like to do them right – Lem was always about maintaining your own standards – so we couldn't be happier to have found such a high- quality brewery like Arcadia. We have taken our time to find a US partner, and Arcadia is proof-positive that our search was worth it!"
PHIL CAMPBELL:
"Road Crew is a world-class rock n roll beer, from the worlds loudest band.
ENJOY THE TASTE OF MOTÖRHEAD WHEREVER YOU ARE!
LEMMY LIVES
MOTÖRHEAD FOR LIFE"
www.philcampbell.net || Twitter: @MotorheadPhil
MIKKEY DEE:
"I'm very happy to say that Röad Crew beer is now out in the US! It's been way too long, but now it has arrived, I encourage our North American friends to get out there and enjoy it right now!"
www.mikkeydee.com || Facebook: @mikkeydeeofficial || Instagram: @mikkeydeeofficial